Design Miami/ Basel 2021/
Join us for the 15th edition of Design Miami/ Basel, curated by Aric Chen, where we'll explore the theme of Human Nature–examining the evolving relationship between humans and the increasingly constructed natural world. Experience and shop the fair in-person and online at designmiami.com
Tickets/
General Admission Day Ticket/
Admission for one person, valid for one day only, starting September 21, 2021 at 11am.

Reduced Day Ticket/
Admission for one student or senior citizen for Design Miami/ Basel, valid for one day only, starting September 21, 2021 at 11am. Documentation required for purchase.

Combination Ticket–Design Miami/ Basel and Art Basel/
Admission for one person, valid for Design Miami/ Basel and Art Basel, either September 24, 25, or 26, 2021 (11am–7pm). Both shows must be visited on the same day.

Weekly Ticket/
Admission for one person, valid for all public days, starting September 21, 2021 at 11am.


Location/
Design Miami/ Basel
Hall 1 Süd, Messe Basel Switzerland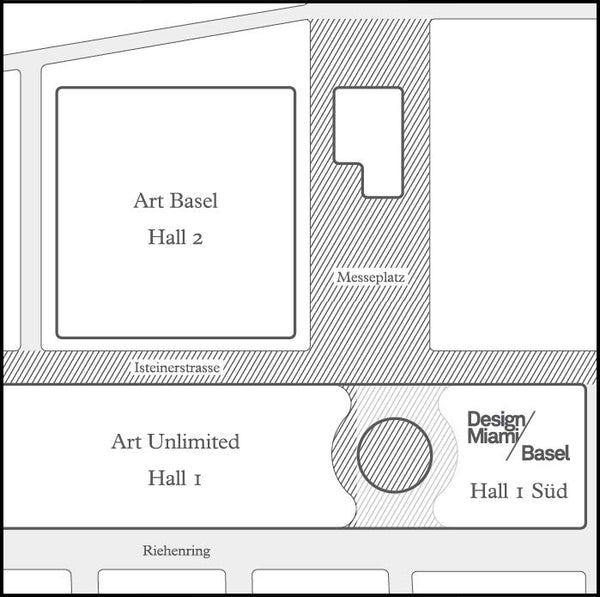 Schedule/
Preview Day/

By Invitation Only

Monday, September 20, 2021
Collectors Preview/ 12–6pm
VIP Preview/ 6–8pm

Public Show Days/

Tuesday, September 21/ 11am–8pm

Wednesday, September 22/ 11am–8pm

Thursday, September 23/ 11am–7pm

Friday, September 24/ 11am–7pm

Saturday, September 25/ 11am–7pm

Sunday, September 26/ 11am–7pm
Travel & Accommodations/
By Air/

The schedule for Swiss International Airlines can be found at www.swiss.com.

By Train/

To travel by Swiss Rail System (SBB), visit www.sbb.ch
To travel by French Rail System (SNCF), visit www.sncf.fr
To travel by German Rail System (DB), visit www.bahn.de

By Tram/

From both the SBB/SNCF and the DB/Badischer Bahnhof stations, you can take Tram No. 2 to Messeplatz.
From the DB/Badischer Bahnhof station, you can also take Tram No. 6 to Messeplatz.

Apartments in Basel/

The House and Food Company
Private Accommodation in Basel
Judith Vine-Frehner, Managing Director
Wettsteinplatz 8
CH- 4058 Basel
Telephone: +41/61-683 1126/27
Fax: +41/61-683 1128
Online: www.houseandfood.ch
Email: frehner@houseandfood.ch

Rules for Visitors/
Security Inspection/

All visitors and their belongings are subject to a thorough inspection before entering the show premises. Visitors must comply with requests and instructions from the onsite security staff.

Prohibited Items in Halls/

Backpacks, suitcases, trolleys of any size; large umbrellas and any other items that might cause damage; firearms, self-defense and/or any sharp items; recreational wheeled devices (e.g. Segways, roller blades, skateboards, bicycles, scooters, etc.); drones.

Visitor Photography Policy/

Personal / non-professional use photography is permitted, only if conducted without disruption to the galleries or visitors, and with the safety of the design works in mind. Press and promotional photography and filming are taking place on the premises. Attendance at the fair implies permission for your image to be used for non-commercial purposes (including media reports).

Bag Policy/

Only one bag per person is allowed. Smaller bags can be taken into the halls but will be subject to inspection. Backpacks, suitcases and trolleys of any size are not allowed. Bags, briefcases, and similar items larger than 16" x 8" x 12" (40 x 20 x 30 cm) must be deposited at the Coat Check. Any items that do not comply with this policy will be prohibited.

Mobility Aids & Medical Equipment/

Mobility aids for people with disabilities (e.g. wheelchairs, crutches, walkers, canes, prosthetic devices and other orthotic devices) are allowed. Personal medical equipment is also allowed.

Marketing Material Distribution/

The distribution of flyers and any other marketing materials is subject to authorization. Unauthorized distribution will result in the visitor being asked to leave the fair and removal of all materials.

Coat Check/

Coat checks are free of charge. Oversize luggage, small bags, coats and umbrellas can be deposited at coat check on the ground floor in Hall 1.0. Design Miami/ Basel is not liable for stolen items and/or any items deposited in the coat check areas.

Camera Policy/

Cameras no larger than 6" x 5" x 3" (16 cm x 12 cm x 8 cm) in size are permitted. One lens, no more than 80mm in focal length, is permitted. The following are prohibited: medium or large-format cameras, super-zoom or telephoto lenses, flashes, extendable camera devices (e.g. monopods, tripods, selfie sticks, etc.), drones and video recording. Any device that does not comply with this policy will be prohibited.

Service Dogs & Assistance Animals/

Dogs and other pets are not permitted in the exhibition halls, except for certified service animals for visitors with disabilities.
COVID-19 Safety/
Federal regulations in Switzerland require all those attending to be fully vaccinated, supply a recent negative COVID-19 test or have proof of antibodies. Click here to view our admission requirements and safety protocols.