Tickets/
General Admission/ $22.50
Admission for one person, valid for one day only starting November 28th at 1pm.
Access is timed; guests must select an arrival date/time.
Buy now
VIP+/ $225
Admission for cardholder and one guest, valid on Preview Day starting November 27th at 12pm.
Benefits/
/ Permanent admission throughout the duration of the fair
/ Access to VIP events program
/ Complimentary Perrier-Jouët champagne service (one per person)
/ Admission to partner museums including the PAMM, Bass, and ICA Miami
/ Exclusive Miami Design District benefits
Buy now
Schedule/
Preview Day/
By Invitation Only
Friday, November 27/ 12–7pm
Public Show Days*/
Saturday, November 28/ 12–7pm
Sunday, November 29/ 12–5pm
Monday, November 30/ 12–7pm
Tuesday, December 1/ 12–7pm
Wednesday, December 2/ 12–7pm
Thursday, December 3/ 12–7pm
Friday, December 4/ 12–7pm
Saturday, December 5/ 12–7pm
Sunday, December 6/ 12–5pm
*12–1pm for pre-booked groups only on all public days.
For personalized information regarding Preview Day, visit the VIP site.
Location/
Moore Building in the Miami Design District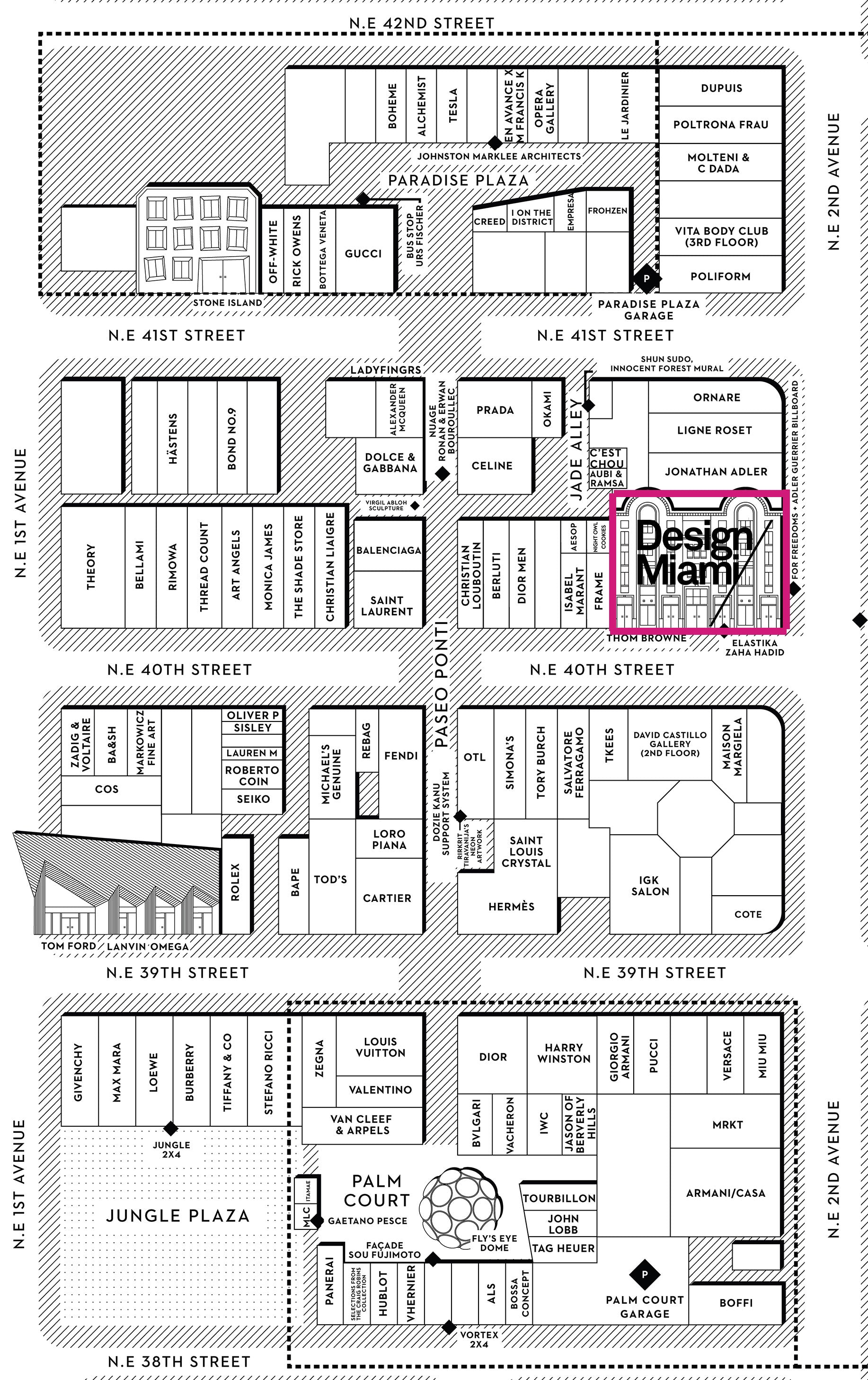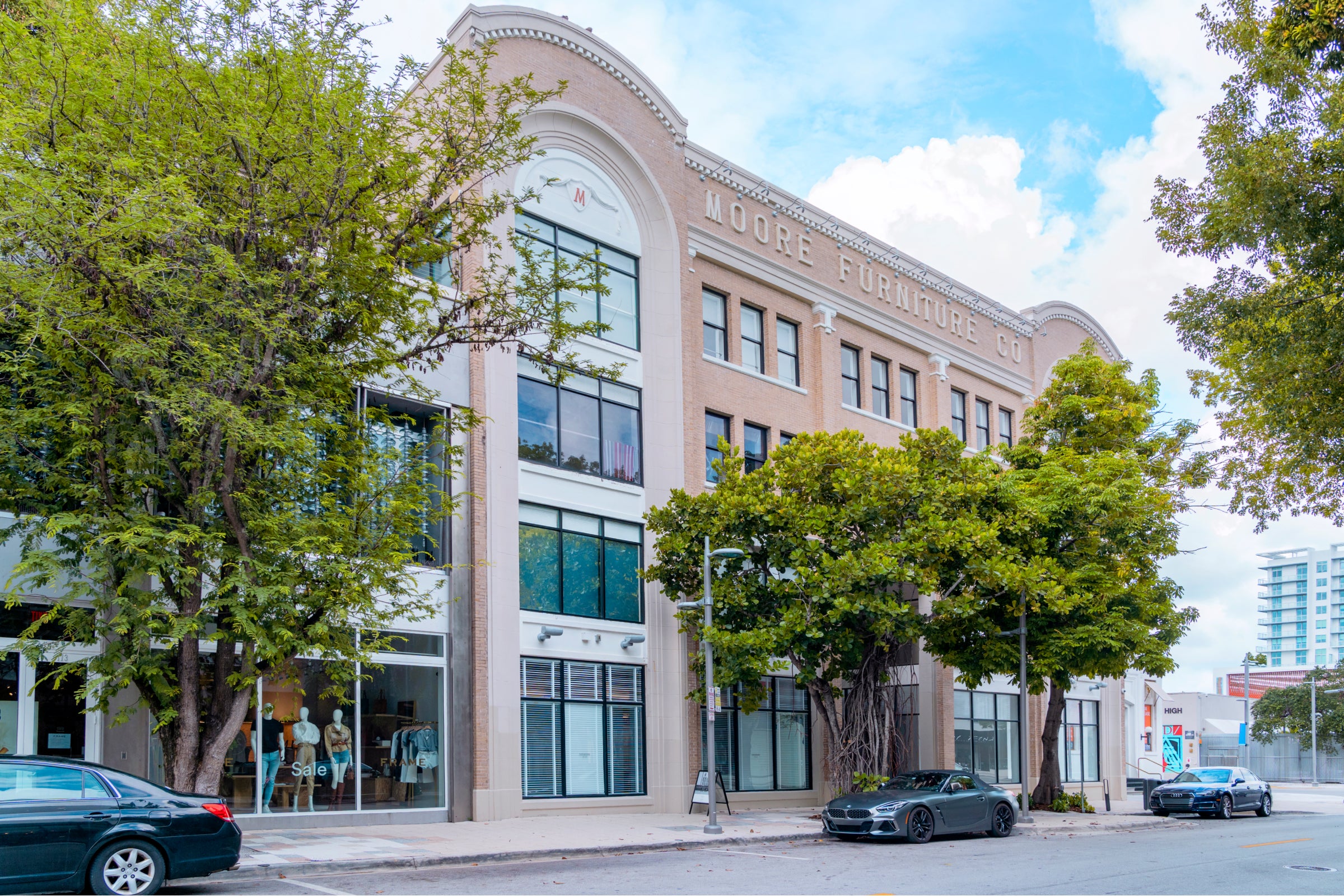 Design Miami/ COVID-19 Protocols/
COVID-19 Safety/

We ask for your patience while awaiting admittance to the exhibition as all check-in protocols are in place for everyone's health and safety.

No mask, no entry, and there are no exceptions.

A mask is required for all guests, dealers and staff and must be worn at all times in all locations. The mask must cover the nose and mouth and fit snugly across the face.

Masks may only be removed to eat and drink while seated in the 4th Floor Rooftop Garden bar. Please note no outside food or beverages are allowed inside the exhibition.

Mandatory temperature checks will be taken of all guests, dealers and staff before entering the exhibition. Anyone with a temperature of 100 degrees or more will be denied entry and provided with information about a local care provider.

If you are feeling unwell or sick, or have recently been in contact with someone who has tested positive for COVID-19 please do not enter the exhibition. The safety of everyone involved is paramount and we ask that you please consider others when attending the exhibition.

An inherent risk of exposure to COVID-19 exists in any public space where people are present. We cannot guarantee that you will not be exposed to COVID-19 during your visit to Design Miami/. Those visiting Design Miami/ do so at their own risk of such exposure. Design Miami/ reserves the right to refuse or revoke the admission of any person whose conduct violates established COVID-19 protocols.

Contactless, Timed Entry/

Access to Design Miami/ will be completely digital and utilize a reserved time entry system that will allow for a small number of guests to visit the exhibition in an orderly and relaxed manner.

Time slots are limited and reservations are available on a first-come, first-serve basis to ensure adherence to social distancing protocols.

Tickets should be purchased prior to arrival. Onsite sales and unscheduled arrivals will be subject to very limited availability.

No physical tickets or cash will be accepted or exchanged. All guests must enter via a scan of a digital ticket.

General admission tickets are $22.50 plus fees, and may be purchased for timed entry at designmiami.com beginning on November 2, 2020.

All sales are final. In the event of an unforeseen cancellation, the ticket price will be refunded, minus fees, from Eventbrite.

Social Distancing/

No more than 205 people will be allowed within the exhibition at any given moment, and this number includes guests, dealers and staff. This 95% reduced capacity, from a norm of 4,500 people, will allow for 64 square feet per person of unprogrammed space.

All guests, dealers and staff will be asked to observe social distancing of six feet or more at all times in all locations.

Directional signage will be provided to ensure the easy flow of guests moving in a singular direction throughout the exhibition.

Directional signage will be hung throughout the exhibition to provide an easy visual tool for guests reminding them of mask and social distancing requirements.

Cleanliness/

Hand sanitizing stations will be provided on all floors of the exhibition.

Design Miami/ will conduct extensive deep cleanings every morning and evening during the run of the exhibition. In addition, there will be dedicated porters for high-touch areas during opening hours.
Miami Design District/
The Miami Design District is a one-of-a-kind neighborhood that combines luxury shopping, galleries, museums, design stores, restaurants, and major art and design installations—all within an architecturally significant context. To learn more about where to eat and what to see, visit the MDD website.
Parking/
Nearby parking is available at City View Garage, Museum Garage, Palm Court Garage, and Paradise Plaza Garage, all within the Miami Design District and is completely contactless. Valet parking is also available.
For more parking information, please visit the Miami Design District.