Design Miami/ 2022
Join us for the 18th edition of Design Miami/, curated by Curatorial Director, Maria Cristina Didero. This year's program will explore the theme of The Golden Age: Looking to the Future, celebrating a tomorrow of our own creation. Discover the fair in-person and online at designmiami.com.
Location/
Design Miami/
Convention Center Drive & 19th Street
Miami Beach, USA
Click here for a map of the show floor.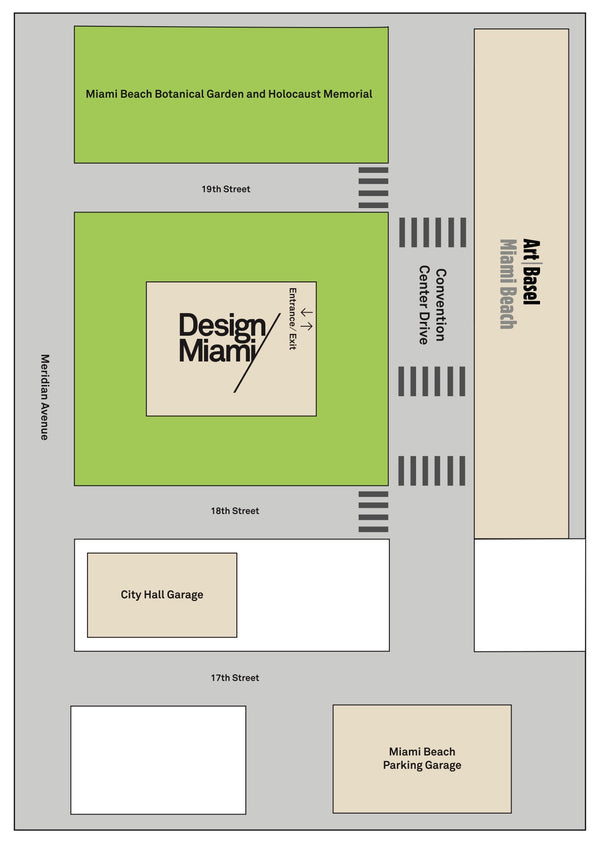 Schedule/
Preview Days/

By Invitation Only

Tuesday, November 29, 2022
Members Preview/ 11am–12pm
Collectors Preview/ 12pm–7pm

Wednesday, November 30, 2022
VIP Preview/ 11am–1pm

Public Show Days/

Wednesday, November 30/ 1pm–7pm

Thursday, December 1/ 11am–7pm

Friday, December 2/ 12pm–7pm

Saturday, December 3/ 12pm–7pm

Sunday, December 4/ 12pm–6pm
Parking & Ride Sharing/
If you are taking an Uber or Lyft to the fair, the drop off and pick up location is on the corner of 19th Street and Meridian Ave. Nearby parking is available at the city parking garage at 1755 Meridian Ave. For more parking, please visit the City of Miami Beach Parking by clicking here.
COVID-19 Safety/
The health and safety of our guests is of the utmost importance to us. If you are currently testing positive for COVID-19 or exhibiting COVID-19 symptoms, we encourage you to wear a mask, stay home and follow the guidelines and precautions as recommended by the CDC.