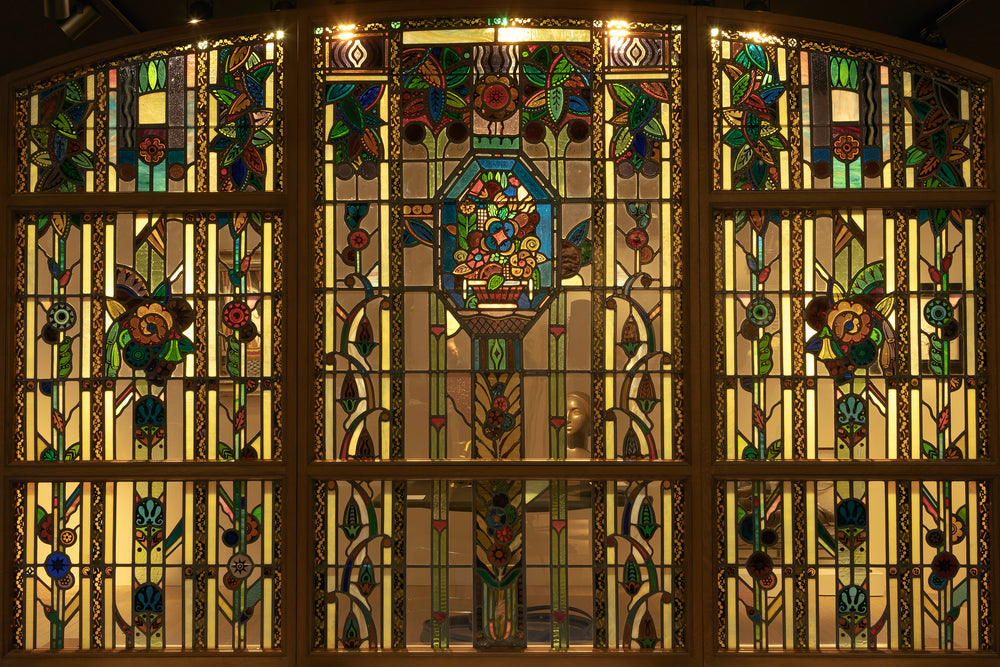 All Sales Final/
All sales of these limited-edition pieces are final.
"Diversly colored and whimsical, this stained-glass window was originally installed at the Horn Building, at the corner of 16th and Chestnut Streets in Philadelphia, which opened in the late 1920s. The Art Deco architect, Ralph B. Bencker, designed the building for restaurant innovators Joe Horn and Frank Hardart. It housed Horn & Hardart's corporate offices and a signature Horn & Hardart eatery. This monumental window, made of eight panels, featuring stylized floral and leaf motifs, was designed by Nicola D'Ascenzo. D'Ascenzo's stained-glass workshop was premier among roughly forty ateliers working in Philadelphia, during the first decades of the twentieth century. By this time, D'Ascenzo had been working with Horn & Hardart for over a decade, and for this commission his studio produced several two-story windows for the entranceway and the side façade.
Known for the high quality of his craftsmanship, D'Ascenzo masterfully manipulated hand-blown, antique, opalescent and other glass in a wide range of saturated colors and textures. He was also known for varying the size of the lead cames between the glass, resulting in a sophisticated and complex composition. Here, strong vertical elements, in a limited palette, are counterbalanced by overlapping circular motifs, bursting with color, suggesting bouquets of assorted flowers. Star shapes, squiggles, stylized open and closed buds and leaves all contribute to the playfulness of the image. Enclosed in a medallion, a basket of blooms dominates the central section, while vines and geometrical designs enliven the large areas of clear glass. For the Horn Building windows, D'Ascenzo employed bold tonalities, patterning, and a purposeful rejection of naturalistic details and recession into space to create a decidedly modern window in a centuries-old technique. "