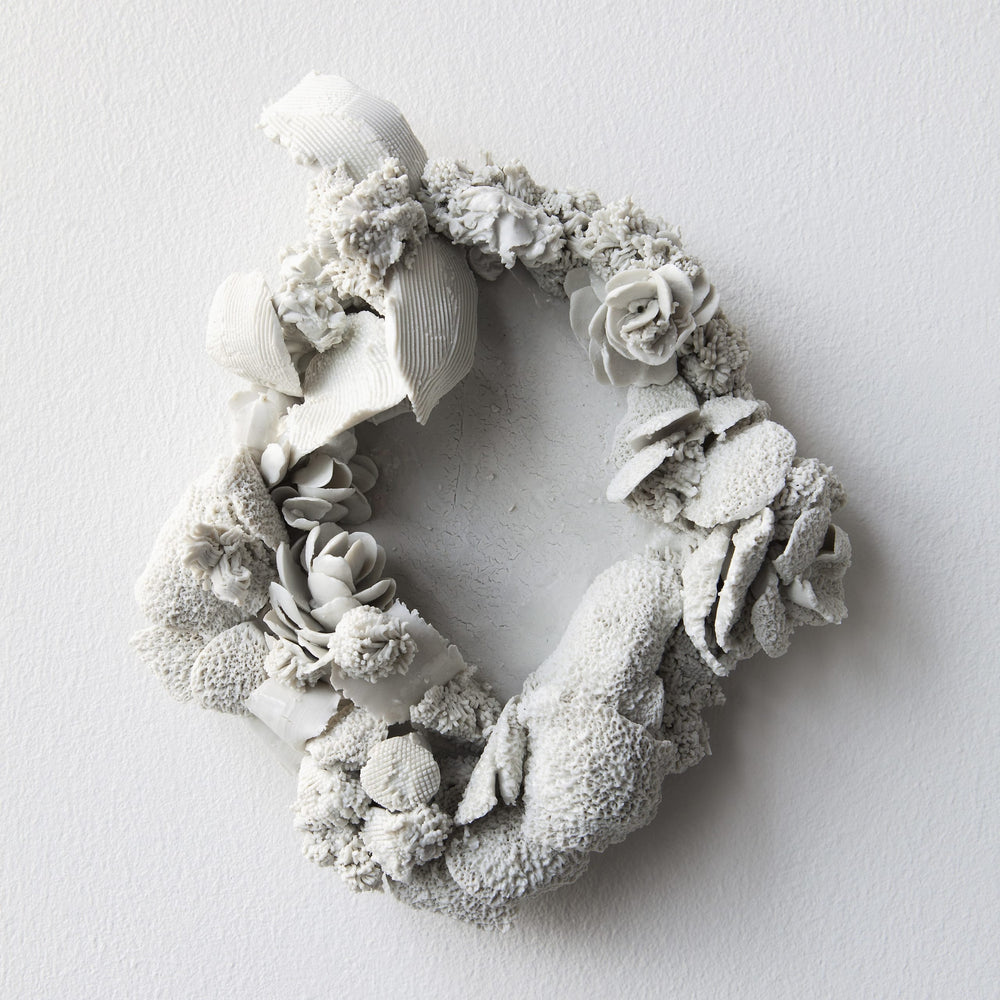 All Sales Final/
All sales of these limited-edition pieces are final.
In this body of work, Veera Kulju (Finnish, b. 1975) creates non-functional "mirrors"; around a traditionally oval slab she hand builds an ornamental frame. The borders are representative of

what might be found on the forest floor in a Nordic fairytale – tendrils of filigree spiral around mossy mounds, punctured with thousands of tiny needle pricks; petals in varying stages of decomposition nestle next to striated pinecones – clustering so naturalistic it belies the meditative and highly laborious nature of the work. The central area where one would expect to see mirrored glass is left as a smooth surface, a pool of sometimes iridescent glaze. At times the flora may slightly encroach on this area, which creates the illusion of a patch of frozen pond where someone has gently cleared debris in order to see below the surface. Although we cannot see beyond, the very act of not encountering a reflection or something below the ice creates a subtle conflict. We can focus our gaze back on the lush border to reorient ourselves.

The "mirrors" also suggest a portal into another realm – an escape from the harshness of this reality to a place where one can lay one's head on the gentle moss and find some. For Kulju, this work serves to process her own feelings of fragility. She offers us a glimpse into the places where she finds solace and light. She speaks of finding refuge in the details – the mind-boggling intricacy of the work is what grounds her.

After studying at the School of Design and Crafts, University of Gothenburg, Sweden, and Vihti School of Art and Craft, Veera Kulju received a BA from Lahti University of Applied Science, Institute of Design, Experimental Design in 2005, and her MA in 2010 from Aalto University, School of Art and Design. She was a visiting artist at the Arabia Art Department in 2017-2018. Her work was commissioned to be included in the Finnish State Art Collection and was recently acquired by the National Museum in Stockholm, and she has exhibited widely throughout Finland and abroad.
Materials: Glazed porcelain, hand-built.