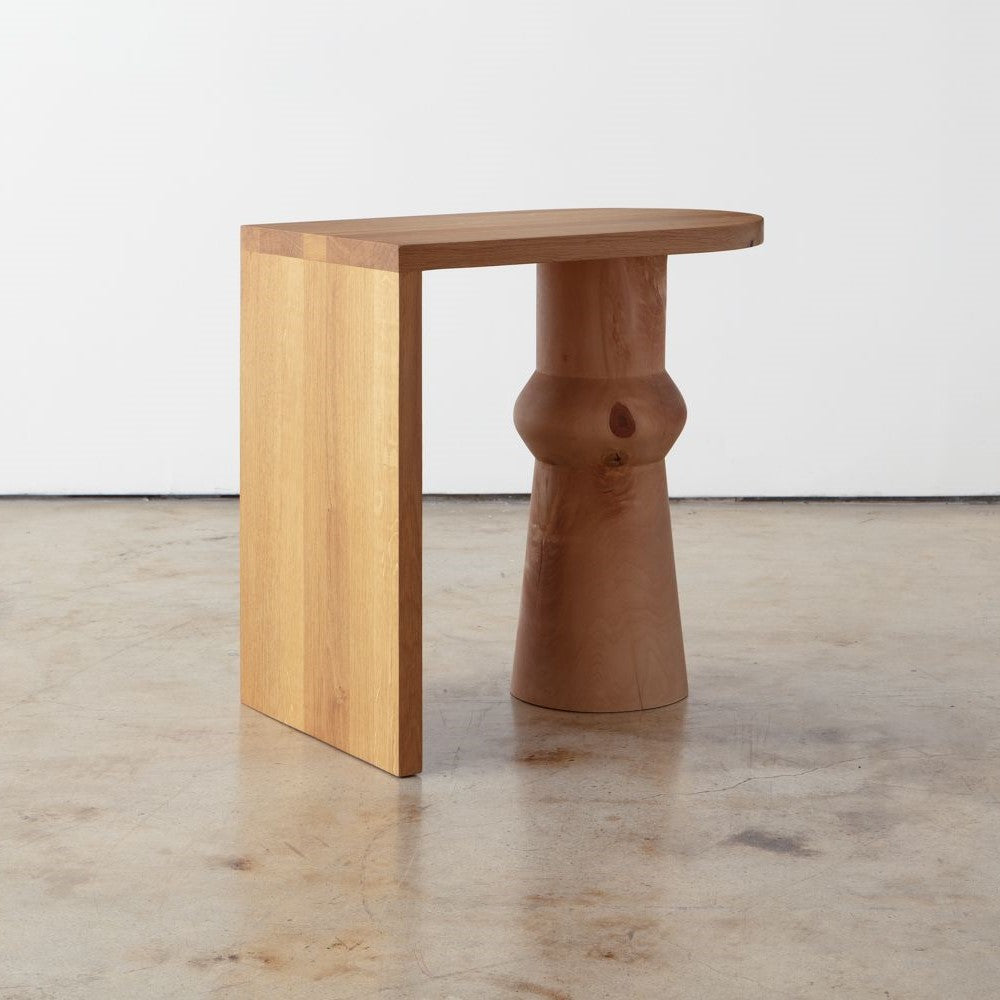 All Sales Final/
All sales of these limited-edition pieces are final.
"Anne Brandhøj (Danish, b. 1984) draws out the qualities and characteristics of wood in her work, highlighting and honoring the imper- fections that represent natural variations in a material that is as old as ... the beginnings of life on this planet? Knots, cracks, resin pockets, fungus attacks and variations in color are present as narratives, each contributing to the story of the wood. By accentuating these irregularities, Brandhøj signals that her pieces are born, shaped and proportioned by nature and on nature's terms. That they are sustainable in form and content, in process and outcome. As a recent furniture design graduate, Anne Brandhøj was not moved to design new, flawless products, and while working on her graduation project at the Royal Danish Academy-Design, she was able to go into the forest and witness how trees became the planks that arrived at the workshop. In the woods she absorbed any knowledge that the local foresters were willing to share with her — and later, she learned how to cut down a tree. Brandhøj was fascinated by the slow growth cycle of trees, spellbound by the wonder of opening up a trunk and seeing what lies hidden under the bark — the mystery of traces and stories.
In an ideal world, it takes up to 20 years to dry a log with minimal stress to the wood. Brandhøj experimented with a faster method, which often resulted in cracks. She became focused on these cracks, on the conflict of the smooth, processed, perhaps oil-finished wood and the natural, tactile knots or cracks, which most people are not accustomed to seeing or touching. Brandhøj believes that the only way to read the full story of her works is to touch them, to feel the variations of the surface by running one's hands over it, how rough turns to smooth, and the fingers intuitively stop to examine the irregularity. To explore its unfamiliar feel and unique appeal. The contrasts anchor the objects, creating a tension and inner balance in works that stand upright or feature a flat surface, reminiscent of furniture. Brandhøj's background as a designer is easy to spot in her works, which contain both abstract and concrete aspects and act as a link between nature and culture. Her creative practice is driven by a goal of eliminating superficialities that do not relate to anyone or anything. In order to be in the world, an object should connect to people and to other objects, just as we do in our lives — in relationships that develop, are used and worn and get a few dents and scratches along the way."