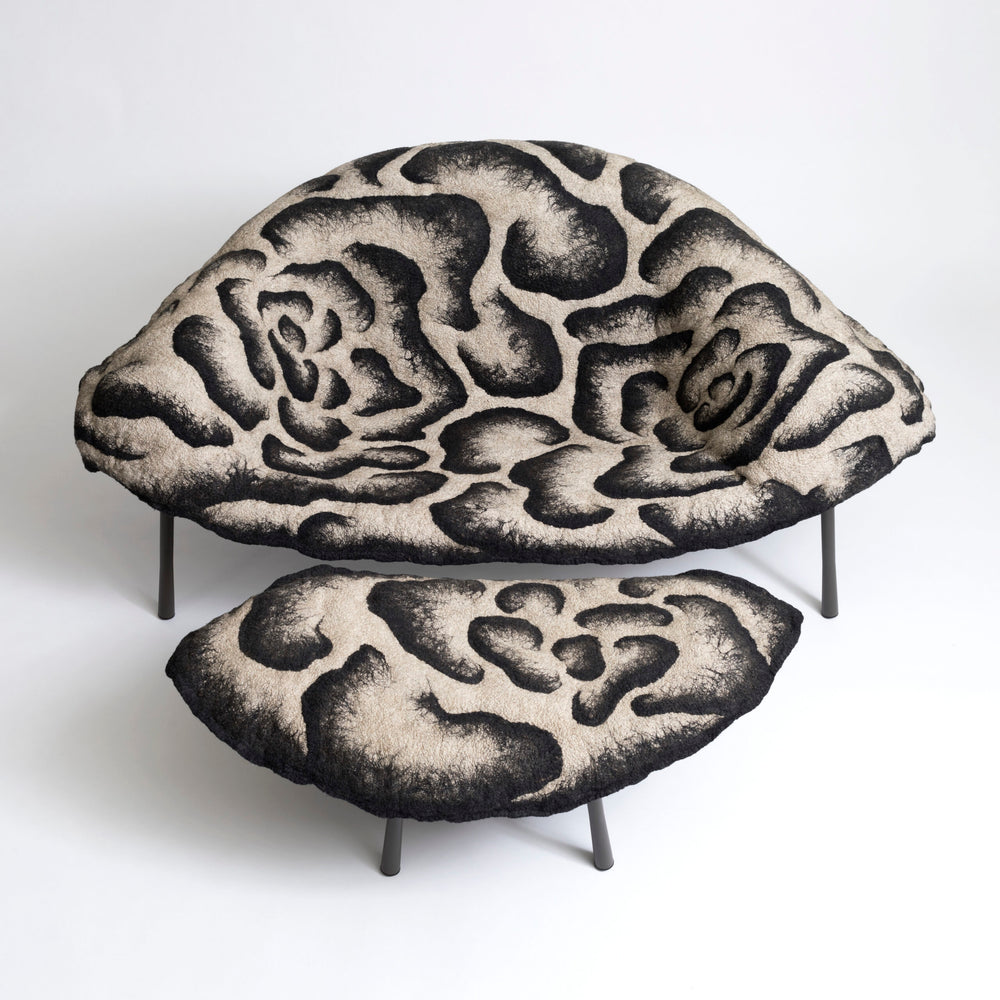 All Sales Final/
All sales of these limited-edition pieces are final.
"This 'Mika Leh Due' two-seater chair and footrest is a unique ensemble handcrafted by Ayala Serfaty featuring a black and white pattern of very large blooming flowers. World-renowned for her 'SOMA' series (her ""clouds""), Ayala Serfaty has developed since 2010 a collection of seats made of wool, linen and silk fibres which she carefully gathers from all over the world. Work by the artist is notably included in the permanent collections of the Metropolitan Museum of Art and the Museum of Arts and Design in New York, and the Musée des Arts Décoratifs in Paris.
Like a painter mixes paint on a pallet, Ayala Serfaty handcrafts a unique felt for each piece to create custom colours and textures. The materiality of textile came to inform her work from its very beginning. "I started out with felt when I went to a Joseph Beuys exhibition in London in 1985. Now I produce it myself. I was trained as a painter and for me, the value of felt – historically, culturally, and artistically – means that I can treat it like a painting or a sculpture. First, I sculpt the polyurethane foam over the metal structure. Next I figure out the shape of the garment so that it will totally cover it. I don't cut a piece of fabric – I make the entire cover in one piece. Each one is unique, and with no fitting. I make the colours I need, mixing silk with wool and linen in different percentages."
The series of sensual and protective felt chairs, armchairs and benches is called 'RAPA' ('the healer' in Hebrew). The name echoes the idea so dear to Joseph Beuys who claimed to have been treated and healed during WWII by this material. Each featuring a unique organic pattern, these seats of singular beauty and consummate comfort defy categorisation while bringing to mind rocky soil, bird plumage, and animal hides. Visually rough but infinitely soft to the touch, they succeed in blurring the usual sensitive frontiers while asserting the physical and terrestrial character of life."
Materials: Felt.