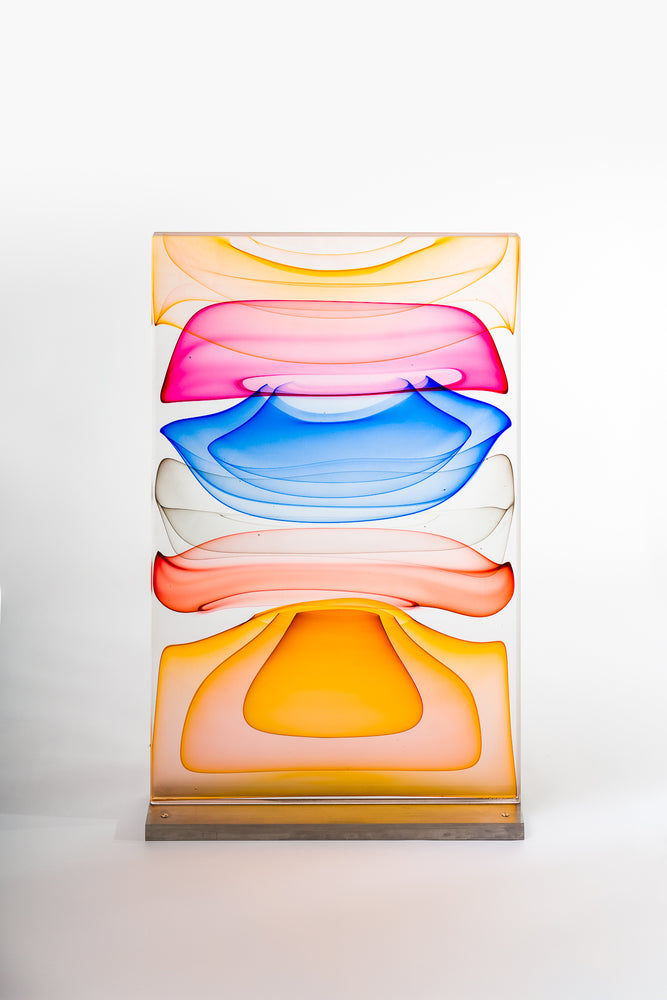 All Sales Final/
All sales of these limited-edition pieces are final.
Jamie Harris' spellbinding glass sculptures, which he calls Infusion Blocks, boast a dynamic quality rooted in his ability to capture the alchemy and activity of the glass making process into a static, impenetrable three-dimensional image. Superficially the works present themselves as rich color-field paintings. Vibrant, cascading color combinations expand and contract upon each other, jockeying for space as they are pushed to the picture's edge. Challenging the inflexible opacity of painting, the innate ability of glass to transmit, reflect, and absorb light creates an ever-changing abstract picture, one that is in a constant dialogue with the surrounding environment.
The individual bands of color, stacked weightlessly in their column, have a surprising amount of depth. They converge, though never to the point of full integration. Within each, the divide between the diaphanous and the saturated provides subtle hints into their formation, though ultimately, what we are left with is a moment suspended in time.
For Harris, his work is a relentless examination of the purity of color and the limitless modulations that can evoke emotional resonance through visual contrasts. Notably, 20th Century Modernist painters like Mark Rothko, Kenneth Nolan, and Ellsworth Kelly have been a source of inspiration, as has the extensive color theory of Joseph Albers. In the way that the mid-century gestural painters brought a sense of action to their canvases through the application of paint, Harris states, "I wanted to capture that flowing sense of color and movement I see when glass is at 2000 degrees."