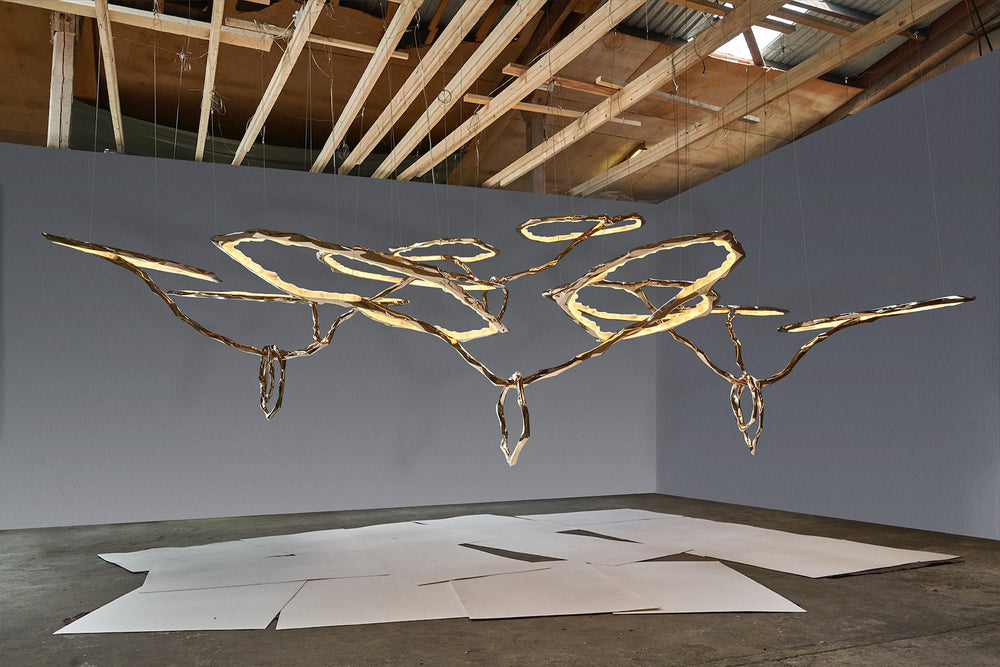 All Sales Final/
All sales of these limited-edition pieces are final.
Markus Haase's monumental Cloud Series light sculpture, Stratus, was originally commissioned for Related Companies' soon to open New York City luxury building, The Cortland. At over nine by two and a half meters, the sculpture is hung from the ceiling at varying levels, composed of tiered, interconnected bronze and onyx "vines" and "rings" embedded with LEDs. Haase's Stratus creates a sweeping landscape of radiant, sculpted light welcoming residents into the lobby.
Haase is one of the only artists working today, creating one-of-a-kind bespoke lighting in bronze. Rather than using the material casting process as a mechanism for creating multiples, each of his custom light sculptures is completely unique. Every component is hand-carved before being cast using the "lost mold" method, destroying the original. Precious stone, onyx, or alabaster is then hand-carved and set in the bronze structure, diffusing the internal LEDs. Haase embodies the independent artisan with each work bearing the distinct mark of the maker's hand. The ethereal glow of his jewelry-like fixtures is unparalleled in today's diverse market of art and design, defining a new artistry for the 21st century.