Shanghai
About
Acclaimed Philadelphia-based artist, activist, and educator Roberto Lugo collaborates with his representing gallery, R & Company, to transform his widely recognized digital platform, The Village Potter, into a physical storefront at this year's Design Miami/ 2022.

Lugo embraces classical pottery forms using portraiture of political leaders and Hip Hop icons with visual references from his upbringing in North Philadelphia to create objects that celebrate communities of color and his own heritage. The Village Potter reflects this mission as an extension of Lugo's artistic practice and everyday life, with the goal to foster accessibility between the general public and the fine art world.

At Design Miami/, The Village Potter takes the form of a neighborhood Bodega stocked with quintessential objects of the brand, including small cups, subway car-styled butter dishes, and water tower coffee pour-overs. New items featured through the platform for the fair include decorated putti bookends and vibrantly-patterned umbrella stands shaped as Pitbulls. Each piece captures Lugo's singular aesthetic approach and his mission to foster inclusivity and community. Starting November 30, the pieces will be made available for a limited-time at designmiami.com.



Roberto Lugo
Roberto Lugo is a Philadelphia-based artist, activist, educator, and spoken word poet known for creating large-scale and ornately decorated ceramics that reimagine historic European and Asian objects of the medium. Lugo complicates the history of these works and the themes they represent - class, privilege, societal values - by creating prized objects that both depict prominent and ordinary figures of color and reference his own Afro-Latino heritage. The permanence of clay complements this mission, as Lugo's works become lasting monuments to the history and culture of the disenfranchised. In short, Lugo elevates POC culture, community, and history, bringing attention to critical issues of inequality and racial injustice in the art spaces and institutions in which his work is shown.

Lugo holds a BFA from the Kansas City Art Institute and an MFA from Penn State. His work has been featured in exhibitions at the Crystal Bridges Museum of American Art, Houston Center for Contemporary Craft, and the Museum of Arts and Design in New York, among others. He is the recipient of numerous awards, including a 2019 Pew Fellowship, a Cynthia Hazen Polsky and Leon Polsky Rome Prize, and a US Artist Award. His work is found in the permanent collections of the Los Angeles County Museum of Art, Philadelphia Museum of Art, The High Museum of Art, the Museum of Fine Arts Boston, Brooklyn Museum, Walters Art Museum, and more. He is currently an Assistant Professor at Tyler School of Art and Architecture in Philadelphia, PA.
Forum Magazine: The Village Potter
A conversation with Roberto Lugo on his upcoming project at Design Miami/, Erykah Badu, and crafting community through design
READ MORE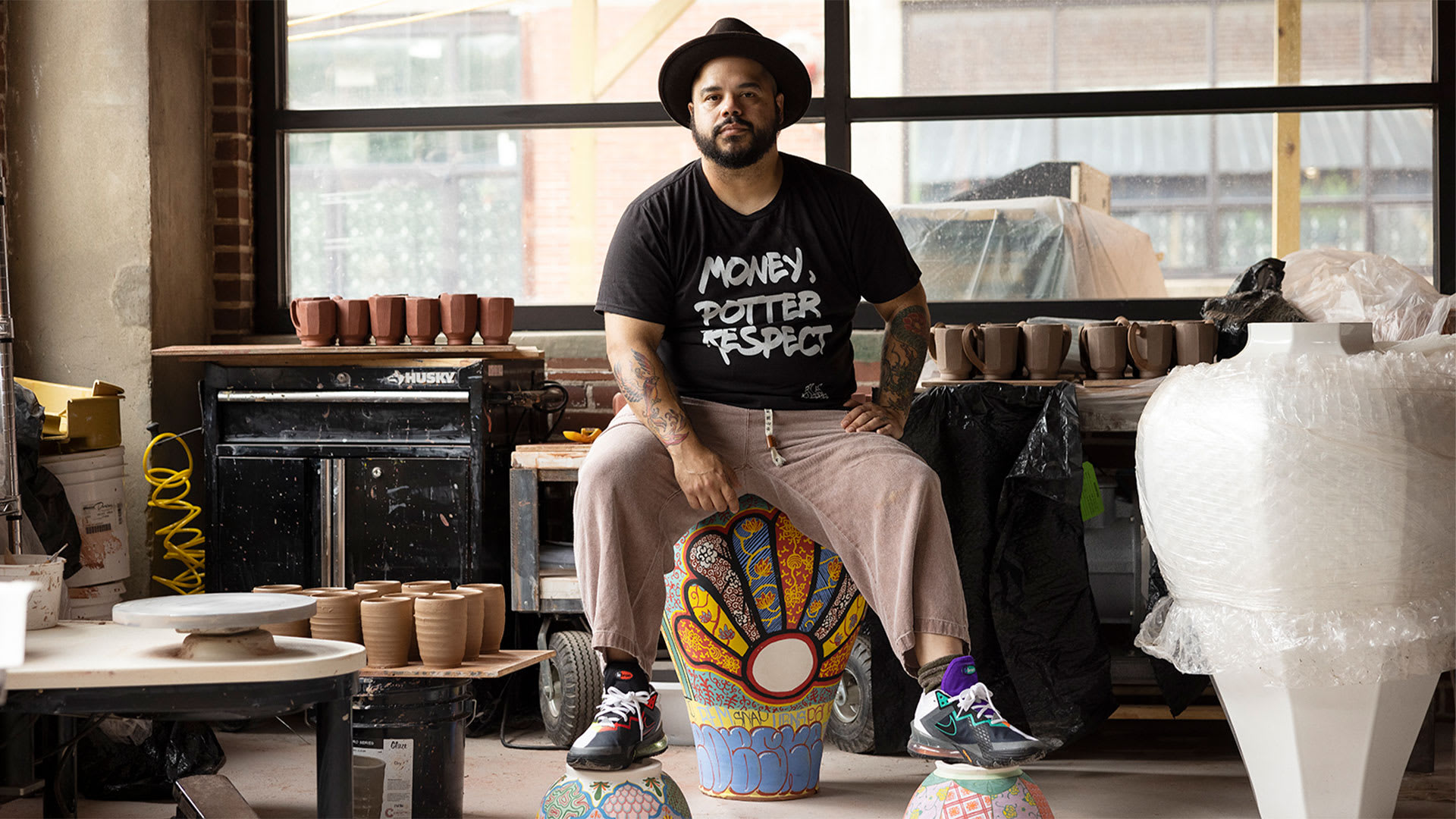 Naihan Li
Renda Zhou
Lin Jing
Contemporary Design with Fine Chinese Craft